Sep. 29, 2022
Your car's brakes are your first line of defense when it comes to avoiding crashes on the road. Keep yourself and others safe by staying on top of brake maintenance and getting them changed when recommended by the manufacturer.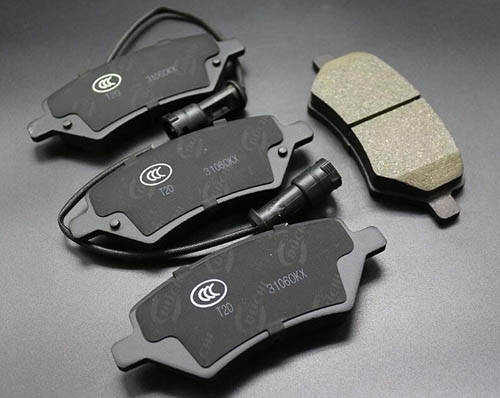 WHAT ARE BRAKE PADS?
Brake pads are a key part of your vehicle's brake system; they sit between your brake shoe (the part that clamps down, slowing the tires' rotation) and your brake drum. Without functioning brake pads, other elements of your vehicle, such as the discs, rotors, and calipers will begin to wear away. Maintaining effective brake pads is important to avoiding very pricy repairs as well as unsafe driving conditions. That's why it's important to be able to identify when to replace your vehicle's old brake pads.
WHEN TO GET YOUR BRAKES CHANGED
The right time to change your brakes depends on the make and model of your vehicle, as well as how often you drive it. The manufacturer's guide will provide you with the most accurate timeline, so we recommend checking the manual and basing your maintenance schedule off of it.
If you aren't sure the exact mileage on your vehicle, the general rule of thumb is to have your brakes inspected once a year, or every 20,000 to 30,000 miles. Timing for brake pad replacement is 10,000 to 20,000 miles, and the rotors should be replaced every 50,000 to 70,000 miles.
These mileage numbers can vary based on the way you drive your vehicle. If you tend to tow heavy loads or spend a lot of time in stop-and-go traffic, your brakes will wear out much faster than the ones on a car used for highway driving. Also, if you tend to brake hard and often, you'll wear out the pads more quickly.
WARNING SIGNS YOU NEED TO CHANGE YOUR BRAKES
Mileage isn't the only guideline to use when deciding on the right time to change your brakes. Most brakes are designed to signal to you that the pads have worn too thin; this can either be a light that pops up on your dashboard or a squealing sound that is created by a "feeler," or piece of metal that makes noise when it comes in contact with the rotor but doesn't damage it.
Stopping a car is hard work that will eventually wear the different brake pieces down until they can't create enough friction to work properly. The warning signs that your brake system needs maintenance include:
● Vibration
● Grinding
● Pulling
● Squealing
● Fading
● Softening of the brakes when pressed
If you experience any of these issues, the brakes need to be inspected. If you continue to drive on worn brakes, you risk damaging the rotors due to the metal of the pad grinding against them. After enough damage, the rotors will be beyond repair and will need total replacement, which is exponentially more expensive.
A car with bad brakes is no longer safe to drive. You won't be able to stop safely in an emergency situation and risk a major car accident. It's important to make an appointment at a trusted auto repair shop as soon as possible to have your brake system inspected and repaired.
HOW LONG DO BRAKE PADS LAST?
Brake pads are generally thought to be good from anywhere between 30,000-35,000 miles. However, the real answer to how long brake pads can last will vary from vehicle to vehicle and from driver to driver. For example, if you tend to drive the most often in urban areas or in heavy commuter traffic, you'll be engaging your brakes a lot more frequently than someone who drives in rural locations or on highways. Some people also tend to "ride the brake," meaning they press and depress their brakes more habitually than other drivers, causing the brake pads to wear away more quickly.
With a little attention and forethought, it can be easy to know when to replace brake pads on your vehicle.
For more information about brake pads, pls feel free to contact us.