Oct. 19, 2022
It's inevitable that you'll need to replace the brake pads on your vehicle. Whether you drive a sports car, a pickup truck, or any other type of personal or commercial vehicle, the brake pads will wear out with use. It's a byproduct of their intended purpose, which is to decelerate your vehicle using friction against the brake rotor. Pressing the brake pedal squeezes two pads on opposing sides of a brake rotor against its surfaces, pulling your vehicle to a stop and wearing a tiny layer of brake material away on every application.
Different grades of brake pads are available from varying suppliers, and the comparison is often OEM vs aftermarket brake pads. For the parts alone, you can expect to pay between $50 and $150 for a set of OEM brake pads per axle while aftermarket brake pads start at around $20 and go up. Which is the right choice for your vehicle, though, and what are the tradeoffs between the different types of brake pads?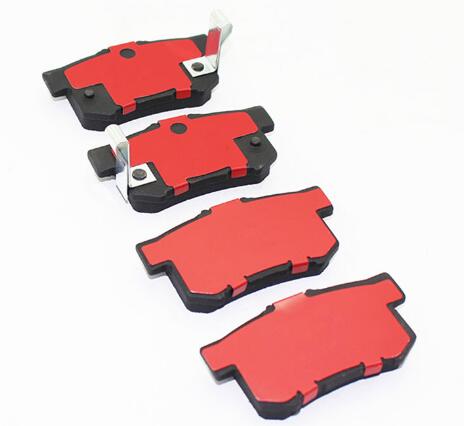 Brake Pad
WHAT ARE OEM BRAKE PADS?
The acronym OEM stands for Original Equipment Manufacturer, and it refers to parts that are made by your car's manufacturer and are precisely the same as the ones it was equipped with off the factory assembly line. They're often supplied to the OEM from another parts manufacturer, though, according to the specs your carmaker indicates.
For OEM brake pads, certain qualities are quite common, and they're almost all focused on the initial experience when you buy a car. The carmaker wants you to enjoy driving – including stopping – your car, with as little to complain about as possible. For most applications, they're made of either ceramic or organic compounds to achieve these smooth-braking results.
WHAT ARE AFTERMARKET BRAKE PADS?
When you hear 'aftermarket', you might think of parts that are made to simulate the original parts, perhaps with a focus on lower prices. While that's sometimes true, aftermarket brake pads are simply parts that have been designed for your vehicle that are NOT made by the vehicle manufacturer. It leaves the door wide open to an extremely large range of brands, types, applications, and qualities.
Aftermarket parts, especially components related to safe driving like brake pads, are manufactured to extremely high standards, much like OEM brakes. They fit like the original parts and are intended to stop your car effectively. Where they vary significantly is in the pad material composition. Often, you'll find replacement aftermarket brake pads from the same brand in ceramic and semi-metallic materials, or even all three types.
PROS AND CONS OF OEM AND AFTERMARKET BRAKES
When faced with different options to replace your current brake pads, which should you choose? Let's look at a brake pad comparison, OEM vs aftermarket, to see the pros and cons of each.
OEM BRAKE PADS
Obviously, carmakers are confident that the brake pads they've chosen for the vehicles they build will suit the purpose they intend. Even so, there are pros and cons for their choice.
For the positive side, OEM brakes:
● Tend to be quiet on application
● Produce little dust that affects wheel appearance
● Have a smooth, soft pedal feel to stop the car
● Don't damage the rotor much during their lifecycle
OEM brake pads aren't perfect, though. Things to consider include:
● They tend to wear out quicker than other choices due to their soft composition
● They often cost more than comparable aftermarket parts
● Stopping distances can be longer than you expect
● Heat dispersion can be an issue, causing warped rotors
● They aren't designed for high-performance braking and can experience fade
AFTERMARKET BRAKE PADS
For virtually every car on the market, you'll find aftermarket options for your brakes. Benefits for performance vary depending on if they're ceramic, semi-metallic, or organic brake pads, but here are a few things to think about.
For ceramic brake pads, you'll notice they produce less dust than other options, there's very little noise on application, and they don't fade nearly as much as other types. They also don't create much wear on rotors. However, they can require more braking effort to stop the car, and they're the priciest option. They're often the best brake pads all around.
For semi-metallic brakes, you'll find they tend to wear out a little faster than ceramic but initially cost less. They disperse heat efficiently from the rotor, but their aggressive compound can create wear on the rotor during application. There's also more brake dust than some other options.
For organic brake pads, you won't hear much noise on application and the brake pedal feel is nice and soft. Brake dust is minimal, but they tend to wear out rather quickly. Organic brakes are inexpensive, typically.
WHAT SHOULD YOU CHOOSE?
Choosing the right brake pads
As a driver, you'll need to decide which option is best the braking you want. OEM brake pads and rotors are made for your car by the same engineers who designed it, which can provide some peace of mind.
However, there are plenty of brake pad options from aftermarket brands that operate as good as the original equipment brakes, and often even better. Comparatively, they're often less expensive and last just as long or longer. Many products are backed by a Limited Lifetime warranty rather than a one-year warranty that most OEMs offer.
Buy your next aftermarket brake pads at YAOLUN. Explore parts from top brands that you know and trust with precise fitment and long-lasting quality. Find your parts online or ask an associate for assistance.